"Gothic… hidden… behind the veneer of virtue." (Edgar Allan Poe)
Gothic Consequences, November 21–24, 2013, Naish Holiday Village, Christchurch, Dorset Gothic Consequences starts in -3138 days, -6 hours and -14 minutes!
Café Casablanca (21–23 February 2014)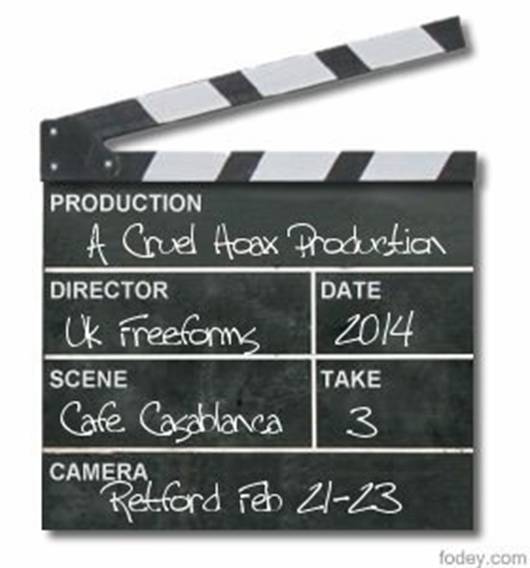 With the coming of the Second World War, many eyes in imprisoned Europe turned hopefully, or desperately, toward the freedom of the Americas. Lisbon became the great embarkation point. But, not everybody could get to Lisbon directly, and so a tortuous, roundabout refugee trail sprang up – Paris to Marseilles… across the Mediterranean to Oran… then by train, or auto, or foot across the rim of Africa, to Casablanca in French Morocco. Here, the fortunate ones through money, or influence, or luck, might obtain exit visas and scurry to Lisbon; and from Lisbon, to the New World. But the others wait in Casablanca… and wait… and wait… and wait.

Casablanca. December 1941. The flotsam and jetsam of Europe has been washed up on the North African coast by the tides of war. Morocco is nominally neutral under the control of the Vichy French, but they are overseen by the German representatives. Agents from European and other powers congregate in Casablanca, where they are joined by refugees, displaced tourists and underworld figures eager to take advantage of the chaos. Anything you want can be found in Casablanca, either in the Casbah or Rick Blaine's (in)famous Café Americain. The Casbah is no place for the unwary, but everybody comes to Rick's.

Café Casablanca will run over the course of the weekend of Friday 21 to Sunday 23 February 2014.
Café Casablanca has been written by Cruel Hoax and will be run by UK Freeforms.
You can join the waiting list by emailing casablanca@ishtari.co.uk.
Peaky
This is an annual event, where game writers, both brand new and experienced come together for a weekend in the Peak district. The aim is for small groups to write short games in the space of around 24 hours. These are then play tested in a safe and encouraging environment the following day.
The following games that have run here at Consequences started life at recent Peaky events:
Miss Maypole
The Day the Music Died
Night Train
The Highgate Club
A Turn on the Radiance Rose
Sword Day
Small Town Folks
Consequences believe that as an event we should be encouraging people to write games for us to play! Peaky is open to everyone to attend, regardless of experience. It positively welcomes new writers, (including someone who had never even played a freeform on one occasion!)
The next event is being held at:
http://www.upperrectoryfarmcottages.co.uk/ in May 2014.
More details can be found at the Peaky Yahoo group:
http://games.groups.yahoo.com/group/peaky/
---
Polo-shirts embroidered by: http://www.corporate-embroidery.co.uk/
http://www.jezdesigns.etsy.com, http://www.jezdesigns.co.uk

http://www.bedlamitesboutique.co.uk/

http://www.leisuregames.com/
http://www.deathuntodarkness.org/

http://www.reapersrevenge.co.uk

http://www.havingalarp.com
If you would like a link to your convention/event here please email us.